Every other year, Ag + Open Space, through our competitive Matching Grant Program, provides funding to public agencies and nonprofits for the protection of open spaces within Sonoma County communities for local agriculture, community recreation, natural resource restoration, and public access. Since 1994, this unique program has provided over $30 million towards projects in all nine incorporated cities and in multiple unincorporated areas, allowing our partners to leverage that funding to develop diverse and innovative projects throughout our county.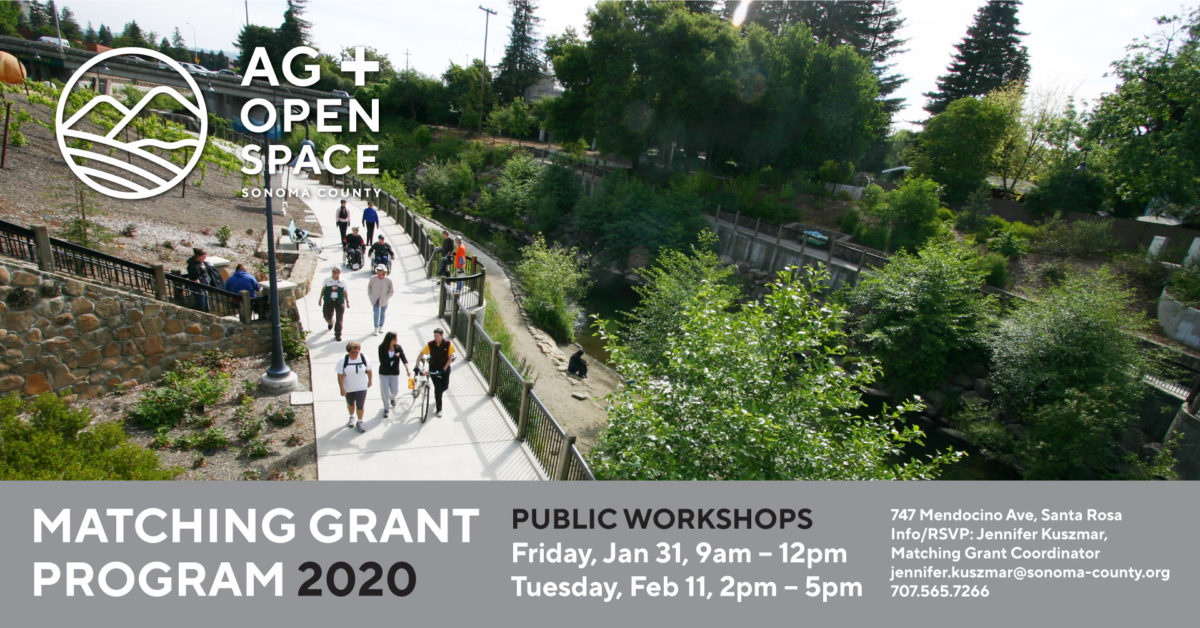 These public workshops are open to all of those interested in learning more about how to apply to the Matching Grant Program. The Matching Granting Program Guidelines and Application are also available:
A few examples of Ag + Open Space Matching Grant projects include:
The Windsor Town Green (Windsor)
Prince Memorial Greenway (Santa Rosa)
Bayer Farm Neighborhood Park & Gardens (Santa Rosa)
Petaluma Marsh expansion and habitat enhancement (Petaluma)
Meadowlark Field Laguna de Santa Rosa restoration project (Sebastopol)
Riverkeeper Stewardship Park (Guerneville)
Falletti Ranch (Cotati)
Explore projects that have been accepted into the Program in the last four grant cycles:
2018 MGP Board Funding Recommendations
2016 MGP Board Funding Recommendations
2014 MGP Board Funding Recommendations
2012 MGP Board Funding Recommendations
2010 MGP Board Funding Recommendations
2008 MGP Board Funding Recommendations
For more information, contact Jennifer Kuszmar at jennifer.kuszmar@sonoma-county.org or 707/565.7266.