Say hello to our newest team member, Simon Apostol. Simon comes to us after working as Natural Area Manager at the Columbia Land Trust in Vancouver, WA. At the land trust, he led several conservation, management, and restoration projects including acting as a lead for the Kwoneesum Dam removal project, which will remove a 50-foot dam on the Washougal River. Simon also has extensive experience as an ecologist, having worked on all aspects of restoration projects in a wide variety of ecosystems – from riparian areas to upland forest habitats. Hear more from Simon in our latest spotlight!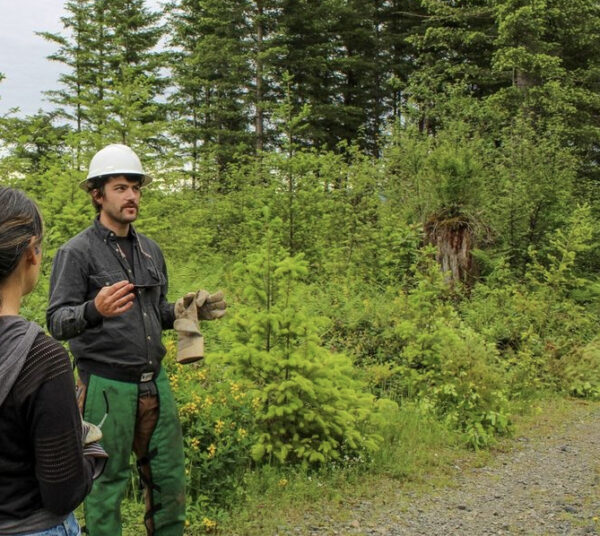 What's your favorite Sonoma County place to get outside and why?
I've just moved to the region and am having a fantastic time exploring. I love the coast and area around Bodega Bay, and feel grateful that there has been so much work done to secure public access to beaches and headlands.
What's one fact, statistic, or interesting tidbit about land conservation that you enjoy sharing with others?
Functioning wetlands are some of our best tools for mitigating drought, flooding, and other natural disasters–especially important in the face of warming temperatures and increasing weather severity. Wetlands and ponds created by beaver activity in particular are fantastic at holding water in a landscape, recharging soil moisture, and even providing natural breaks against wildfire. Sonoma county is home to some fantastic, diverse wetlands including the Laguna de Santa Rosa and numerous estuaries along the coast.
What's your proudest moment working in land conservation and why?
I was fortunate to play a role as restoration project manager for several elements of a large-scale, multi-decade effort to restore over 1000 acres of floodplain forest along the Columbia River. This work was only possible through the work of several different agencies, nonprofits, and community recreation groups, some of which were concerned that habitat protections would close off the well-loved property to public recreation. Through many meetings, site tours, and volunteer planting events, we were able to come to a solution that left everyone happy and showed that restoration, habitat conservation, and public access do not need to be at odds with each other.
What compelled you to pick a career in land conservation?
I'm not sure I ever really considered anything else! I just knew I loved the natural world and wanted to be a part of protecting it. The only other job I ever really liked was working as a bike mechanic. Unfortunately I was pretty bad at it, so here I am.
What's your favorite ice cream flavor and why?
Sadly I am lactose intolerant, but I'll demolish any baked goods I can get my hands on.