This month we heard from Michelle Nozzari, our new Administrative Aide. Before joining Ag + Open Space, she worked for the UC Cooperative Extension as an Administrative Aide, and in the Sonoma County Agricultural Commissioner's office as a Program Assistant. Michelle is a great addition to our administrative team, all of whom keep our organization running smoothly.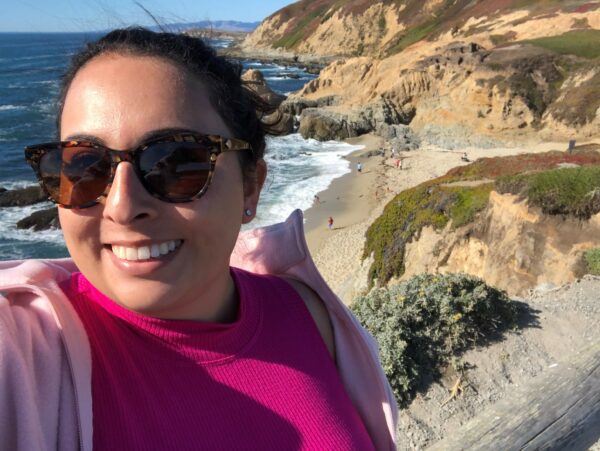 What's your favorite Sonoma County place to get outside and why?
I love West County and I am very partial to the Sonoma Coast, especially Doran Regional Park in Bodega and Salt Point State Park in Jenner. Both places have excellent trails to walk with pets, and picnic areas perfect to have lunch with friends and family while taking in beautiful views. 
What's one fact, statistic, or interesting tidbit about land conservation that you enjoy sharing with others?
Sonoma County boasts some of the most beautiful coastal landscapes and wetland habitats in the country. Wetlands cover a small percent of land area, but they store 30% of soil organic carbon, an amount greater than forests.  This carbon is rapidly released to the atmosphere when those wetlands are degraded, which is why wetland conservation is so important. 
What's your proudest moment working in land conservation and why?
As part of my undergraduate studies, I was part of a team that conducted a research project studying the impact of nitrates on the three species of California Pacific Newts found in Sonoma County. Being able to see the impact of nitrate pollution in our waterways and on protected species first hand was really impactful.
What compelled you to pick a career in land conservation?
I love nature and I am really compelled by the mission of protecting the land for future generations. There is an old Greek proverb: "a society grows great when elders plant trees in whose shade they shall never sit." We have clean drinking water, fresh air, and open space in Sonoma County because others took painstaking effort to preserve our landscapes from overdevelopment. Land conservation benefits everyone.
What's your favorite ice cream flavor and why?
I am not sure I can pick just one! The last scoop I had was Swiss Chocolate from Noble Folk Ice Cream Bar in Santa Rosa and it was delicious. I would be remiss not to mention the staples in my refrigerator – a pint Peppermint Stick from Screaming Mimi's in Sebastopol, and a pint of Snickerdoodle Ice Cream from Straus Family Creamery. I love that these products are made locally, or come from local  dairies that use sustainable practices.