This month, we got a chance to check in with Kendall Gutt, one of our awesome new Stewardship Technicians. Prior to working with us, Kendall worked for both Regional Parks and Sonoma Land Trust, where she focused on land stewardship and environmental education – including Park Preview Days on some of our conservation easements. She has a degree in Geography, Environment and Planning from Sonoma State University, and has also worked at a renowned farm-to-table establishment in Healdsburg and bartended in the heart of the dairy belt, Valley Ford. Read on to hear more about Kendall's journey to Ag + Open Space, and what drives her in this work.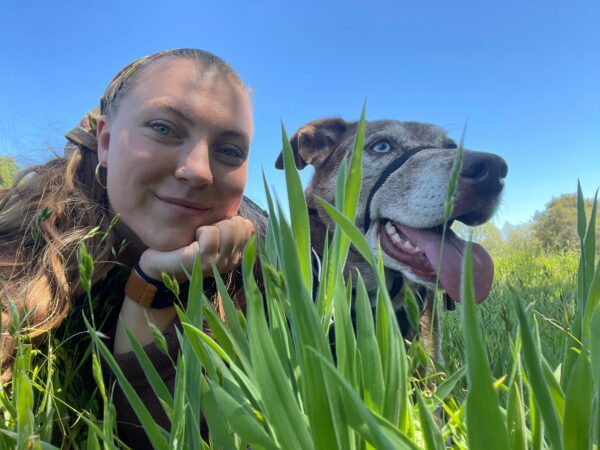 What's your favorite Sonoma County place to get outside and why?
My favorite place to get outside in Sonoma County is Stillwater Cove Regional Park. Stillwater Cove is one of the lesser known and more remote regional parks – two of my favorite things. It holds a gentle creek that flows through towering redwoods and leads out to the ocean cove. In the spring it hosts beautiful wildflowers and in the fall has fungi of all kinds. I'm always discovering something new when I visit – my third favorite thing. 
What's one fact, statistic, or interesting tidbit about land conservation that you enjoy sharing with others?
Have you heard of the 30×30 goal? Across the globe, countries are aiming to protect 30% of their lands by 2030, including the United States! 22% of Sonoma County's land has already been protected. Ag + Open Space plays a crucial role in securing the remaining 8% to protect open space and agricultural land for future generations.
What's your proudest moment working in land conservation and why?
I feel exceptionally proud every time I think about the incredible community we have in land conservation. I know for many in the land conservation movement, some days our impact can feel small or menial. But when I step back and think about the thousands of people who volunteer, donate, dedicate their career, or vote in favor of land conservation in Sonoma County, I can only think of how big our impact is together and how proud I am to be a part of this community. Thank YOU for your contribution to land conservation!
What compelled you to pick a career in land conservation?
I have always known that dedicating my career to something that is valuable to me and my community will ensure I feel fulfilled, even on the hardest days. Knowing that the work we do at Ag + Open Space secures public open space and agricultural land in Sonoma County for generations to come, makes me feel extremely grateful to work in land conservation. 
What's your favorite ice cream flavor and why?
My favorite ice cream flavor is homemade mint chocolate chip. Utilizing fresh mint from the garden can convince me it's summer all year long!