In this month's Staff Spotlight we welcome Raquel Guevara-Bolanos, who recently joined our team as a Stewardship Technician. Raquel most recently worked at Sonoma Water, where she led workshops on riparian habitat, salmon, and the role of land management.  She has also worked for Circuit Rider doing fire management, stream restoration, and invasive plant management, and has interned in Santa Rosa Junior College's Wildfire Resilience Program. Raquel has a degree in Environmental Studies and Planning from Sonoma State, where she also worked as a docent-naturalist at Fairfield-Osborn Preserve (over which we hold a conservation easement). Join us in welcoming Raquel, and hear more from her below!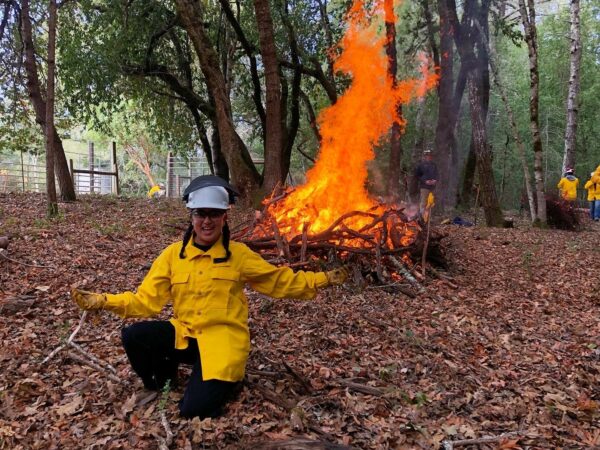 What's your favorite Sonoma County place to get outside and why?
My favorite place to get outside has to be the Fairfield-Osborn Preserve! This place holds a special place in my heart as it was where I got to learn about native flora and fauna of California, and I have seen the changes of every season here. It is also where I met some of my closest friends and where I have created beautiful memories throughout my time in Sonoma County. When I think of this place, I think about all of the knowledge that is shared from peers, teachers, but also the plants and animals themselves.  
What's one fact, statistic, or interesting tidbit about land conservation that you enjoy sharing with others?
The fact that here in our region, we live in one of the world's biodiversity hotspots, the California Floristic Province! It is home to thousands of endemic plant species, some that we might have seen before around the neighborhood or in the county. I love sharing this with people because when we think about why we need land conservation, we might think of other places like the Amazon Rainforest that need protection (which don't get me wrong, is just as important), but even here locally there is work to do. And preserving open space means preserving habitat for these amazing endemic plant species and everything that depends on them! 
What's your proudest moment working in land conservation and why?
My proudest moment has been one of many! In my previous roles last year, there were several moments when I had to get comfortable with being uncomfortable, and as a land steward these were the moments that brought the most growth. I never saw myself being able to work with tools like chainsaws or being able to work with such a powerful element like fire, but I did and walked away with a new set of skills. 
What compelled you to pick a career in land conservation?
I have known land conservation by a different name since a young age. My dad was a key person in helping me create a relationship with the natural environment through food, and growing up I always knew I wanted to do something to protect it. When I got to college, I took an introductory course into environmental studies and it confirmed that it was what I wanted to focus on. The more I learned, the more it felt like I was on the right path. There are many people my age and younger that feel a responsibility to do things differently as the world we have inherited is becoming uninhabitable for many species, us included. 
What's your favorite ice cream flavor and why?
Rocky Road! I love the mix of chocolate ice cream with nuts and marshmallows.