This month we're hearing from Lauren Alpert, our Community Relations Specialist. Recently promoted from Community Relations Assistant, Lauren's focus is on engaging Sonoma County community members in the work of Ag + Open Space and our land conservation community at-large. Lauren attended Chico State, in her much loved hometown, and earned a Bachelor's and Master's in English. After graduation, she spent a year with AmeriCorps here in Santa Rosa, several years in Oakland and San Francisco in volunteer management, and then government relations at the California Academy of Sciences before returning to the North Bay. Outside of work you're likely to find Lauren cooking and baking, attempting to garden, exploring the coast, reading, and spending time with her husband, family, and friends.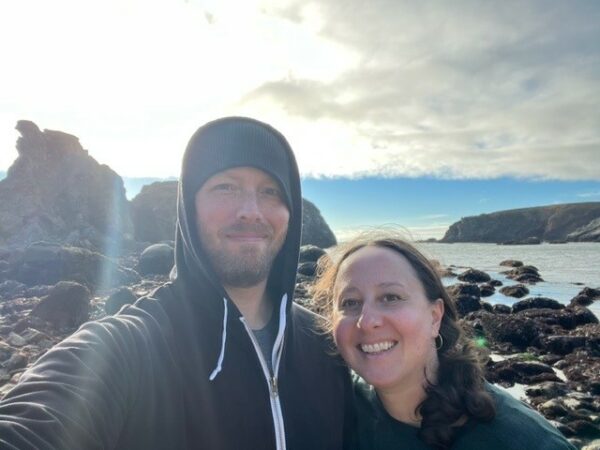 What's your favorite Sonoma County place to get outside and why?
One area I return to again and again is Sonoma Coast State Park and Sonoma County Regional Parks' Shell Beach. My husband and I both love this part of the coast, as he loves fishing and foraging and I love my feet in the surf and a good book in hand. When we're feeling like more of a challenge, we cross Highway 1 for a hike up Red Hill – a place I loved before working at Ag + Open Space, but that holds an extra special place in my heart knowing our organization helped conserve it forever. 
What's one fact, statistic, or interesting tidbit about land conservation that you enjoy sharing with others?
Our world feels… tumultuous, and when it comes to a rapidly changing climate, the challenges can feel so large. As our General Manager, Misti Arias, recently reflected in Sonoma Magazine, "There is such an urgency to do the work as quickly as possible, because the science is showing dates that are very recognizable… The pressure feels greater, but in many ways that's just a stronger motivator." I am heartened by seeing what's already been done, and the energy I feel in talking to colleagues about the work ahead. Ag + Open Space has conserved over 10% of land in Sonoma County, and when you add in land trusts, state and federal agencies, and community organizations, it's more like 20%. So, yes… we see goals like the State of California aiming to conserve 30% of the state's land by 2030, and it feels huge. But many have been doing this work for a long time, and I know at Ag + Open Space we feel a re-invigorated sense of purpose and drive. 
What's your proudest moment working in land conservation and why?
Part of my job is managing our Public Outings and Youth Education program, which works with community partners to offer free outings and youth education programs on Ag + Open Space-conserved lands. At the start of the pandemic, I worked with our fabulous program partners to make a huge shift from solely in-person programming to virtual programming. While none of us knew what was to come in the months and years ahead, the commitment and care I saw coming from our partners to our communities was exceptional. In the last three years, we've served several thousand more community members than we have in the past, and have seen the ways in which hybrid programming has increased accessibility through captioning, live translations, and so much more. 
What compelled you to pick a career in land conservation?
A driving force in my career has always been that I need to feel a personal connection to what I do. I grew up in a beautiful place, Chico, surrounded by bustling farmlands and one of the biggest municipal parks in the country. When looking for places to work several years ago, I had the loose idea of "the environment" in mind, and when an opportunity to work at the California Academy of Sciences arose, I felt something click into place. Since joining Ag + Open Space, I've seen the many ways in which conserved lands can impact each of us – bringing joy and solace, protection and sustenance, and helping us far into the years ahead. 
I'm also grateful for the ways in which writing has helped me get to where I am now. I know I felt a little lost after school (naively thinking, what kind of jobs can an English major get?), but now I can see how continuing to strengthen my writing and other communications skills has helped me work towards what I want for myself professionally and personally. So, anyone who thinks studying English for four (or seven, in my case) years won't help you after school… give me a call. 
What's your favorite ice cream flavor and why?
How much time do you have? I am a fan of classics – cookies n' cream, mint chip, even vanilla if sprinkles are involved. My husband and I gravitate towards Noble Folk – they're always offering something new for me to try, but I lean heavily towards their Dutch Cookie or Homemade Oreo.