Petaluma Bounty, a community farm and program of Petaluma People Services Center, works to create a thriving local food system with healthy food for everyone through collaboration, education, and promoting self-reliance.
As the COVID-19 pandemic began, we recognized there was immediate need within our agricultural community to alleviate some of the burdens experienced by farms and ranches due to restaurant and business closures, decreased demand for products, and labor shortages, among other challenges. Through our ASAP Emergency Matching Grant program, we supported Petaluma Bounty's farm operations and community programs.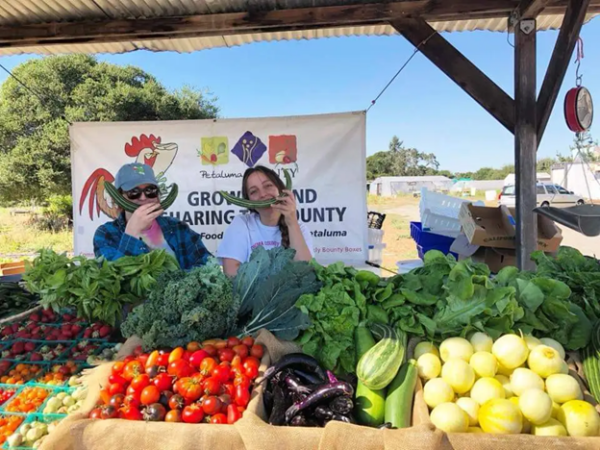 This 3-acre farm in Petaluma is operated by Suzi Grady, and since its start the farm has offered a sliding scale farm stand and CSA program. By selling produce and plant starts on a sliding scale, Petaluma Bounty's farm stand allows people on a limited budget to choose fresh fruits and vegetables for their family.
With Ag + Open Space's ASAP program support, the farm was able to upgrade their irrigation system and sustain their farm stand through uniquely trying times. Early in the pandemic, the pressure regulator switch failed on the farm's aging irrigation system, which caused damage throughout the lines. The emergency funds helped them to replace aging parts, address leaks and pressure issues, and replace broken drip irrigation that was causing crop loss.
In addition to the farm stand and their many other community programs, Petaluma Bounty's Farmers Market LIFE (Local Incentive for Food and Economy) program is a consortium of four market organizations that represent 15 farmers markets in Sonoma and Marin Counties. Through income-based nutrition incentives, this program provides affordable access to locally grown food, while local farmers still receive full payment for their produce. ASAP funding helped them to  launch an ambitious extension to this program to include meat, dairy, and eggs nutrition incentives for people on CalFresh, and helped bridge funding gaps during a time of unprecedented participation in the program.
Petaluma Bounty's vision is to grow a thriving local food system where consumers make informed decisions, farmers make a decent living while prioritizing ecological stewardship of the land, and all people – regardless of income – have access to healthy food. Learn more about their amazing work >>