In our latest Staff Spotlight, we chatted with Mary Chambers, our Agricultural Specialist. Mary grew up in the East Bay, hiking, camping, and eating as many fruits as possible at her hometown farmers market. She studied agriculture at Stanford University and sustainable international development at Brandeis University, and then headed abroad to work in Ethiopia and Bangladesh. After realizing she missed California too much to stay away, Mary moved back to the Bay Area to work on supporting local food and ag systems, and joined Ag + Open Space as the Agricultural Specialist in April 2021. Outside of work, Mary enjoys knitting, taekwondo, and taking her two large, fluffy cats on walks through the neighborhood.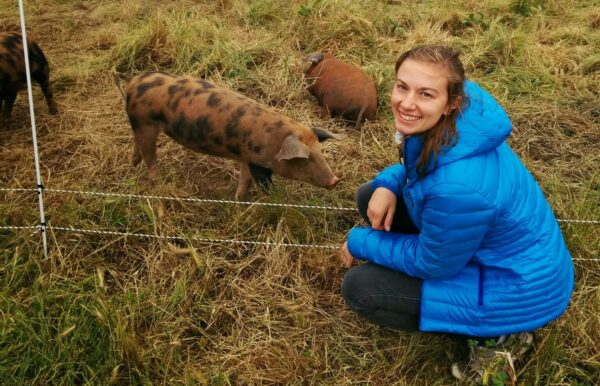 What's your favorite Sonoma County place to get outside and why?
I've really been enjoying visits to Shiloh Ranch Regional Park! It's scenic, rarely crowded, has great strenuous hills, and visitors can see some ongoing fuel management work. Best of all, it's only a few minutes from where I live in Santa Rosa. I feel lucky to have parks so close by!
What's one fact, statistic, or interesting tidbit about land conservation that you enjoy sharing with others?
A 1% increase in soil's organic matter helps soil hold 20,000 gallons more water per acre! Caring for the health of our soil, including by adding material like compost, allows us to retain more water and continue producing food and other crops under the impacts of climate change, drought, and other disasters. These same practices also help increase the carbon stored in the soil and improve the nutrient content of foods grown in that soil. A win-win-win!
What's your proudest moment working in land conservation and why?
I'm really proud and excited to be working on our Farmland for All program (more on this coming soon)! This program aims to expand the tools we use to protect our local farms and ranches, and brings an additional focus on access to land for ag producers. Knowing that this work could support the long term success of Sonoma County's local food system is really rewarding. 
What compelled you to pick a career in land conservation?
Agriculture is connected to pretty much everything, from health and the environment to policy and culture. And without land, we can't maintain the farms and ranches that provide us with all these benefits – including the food we eat. Nor can we support the farmers and ranchers who steward this land in ways that provide not only food, but also educational opportunities, water filtration, wildlife habitat, carbon sequestration, and so much more. Making sure that we preserve our farmland, and that it's accessible to future generations of farmers and ranchers, is what inspires me in my work with Ag + Open Space. 
Looking back, my initial interest in agriculture was also definitely sparked by my love of food – having grown up in the Bay Area, I've always been surrounded by fresh, local fruits and vegetables. I want future Bay Area kids to be able to enjoy the same delicious produce that I do!
What's your favorite ice cream flavor and why?
Ben & Jerry's Phish Food! Come for the weird name, stay for the chocolate, marshmallow, and caramel swirls. And the tiny fudge fish! Hunting for those fish in a bowl of delicious ice cream is just as fun now as it was when I was a little kid.