In this month's Staff Spotlight, we're tuning in with Pierre Ratte – one of our Acquisition Specialists, and the newest member of the Ag + Open Space team. Before joining us, Pierre earned a Masters in Regional and Environmental Planning from University of Pennsylvania, and a Masters of Business Administration from NYU's Stern School of Business. For nearly two decades he was owner and CEO of Institutional Ag Services Ltd., where he conducted real estate transactions, financial modeling, and complex project management across the US, and he also served as an elected commissioner for the Town of Weston, CT. Pierre is active with local gleaning and food bank organizations who assist those experiencing food insecurity, and is a firm believer that Sonoma County is one of the best places on the planet.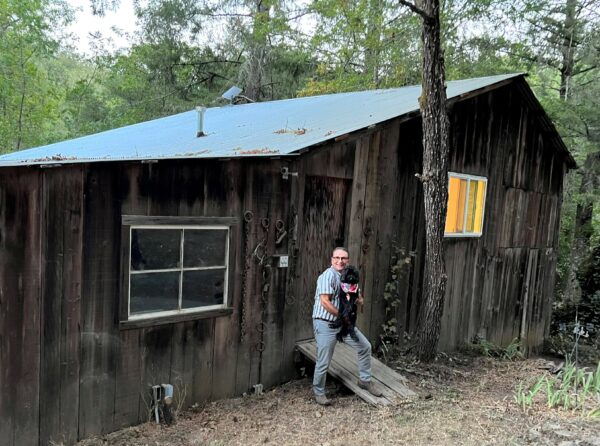 What's your favorite Sonoma County place to get outside and why?
My backyard. Rustic living alongside a creek, in the shade of towering Doug firs (Pseudotsuga menziesii) in the company of 2 horses, 1 donkey, 1 llama, 3 pigs, 3 goats, 1 sheep, visiting deer, wild turkeys, and my companion of almost 15 years, Sydney.    
What's one fact, statistic, or interesting tidbit about land conservation that you enjoy sharing with others?
Early in the pandemic we were told to 'shelter-in-place.' We've been telling animals to shelter-in-place for decades. It was gratifying to share our planet more equitably with nature through those months.  
What's your proudest moment working in land conservation and why?
I was part of an effort to rescue a 34,000 acre sugar plantation on the Big Island of Hawaii. Cooperatively working between public and private sectors to create better outcomes has been a long-time passion. 
What compelled you to pick a career in land conservation?
I got a Masters degree in Environmental Planning because it was a compellingly integrative field of study – natural sciences' intersection with cultural, political, and business realities. I have never been disappointed by its complexities. 
 What's your favorite ice cream flavor and why?
Any. Sometimes I tell people that places in Sonoma County – Healdsburg, Cloverdale, Calistoga, Geyserville, Graton, Santa Rosa, Guerneville, Petaluma, Sebastopol, Bodega, Monte Rio – are like ice cream in an ice cream store. You might like rocky road over vanilla, cherry pistachio over maple walnut, salted caramel over mint chocolate chip, but basically they are all good – just like the variety of places in Sonoma. I feel privileged to be able to work towards their conservation for the betterment of residents in this county.