For this month's Staff Spotlight, we're checking in with Cieara McKetchnie-Stanley, one of our Administrative Aides. Cieara joined Ag + Open Space in 2019, and has a degree in technical theater and design. She also loves painting in her free time. Read on below to learn more about Cieara's work in land conservation, and for a great tip for dessert next time you're out in Petaluma.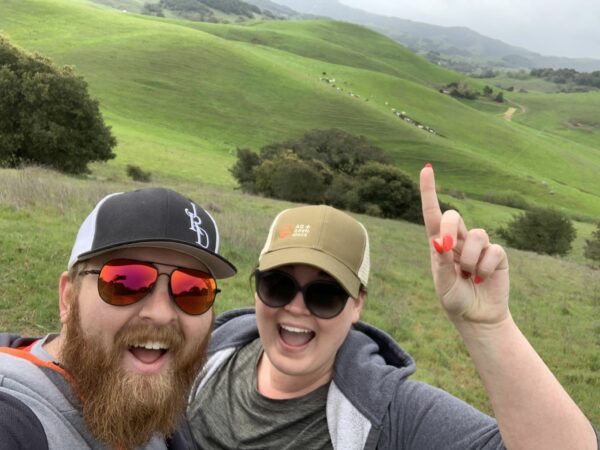 What's your favorite Sonoma County place to get outside and why?
My favorite place is Helen Putnam Regional Park. Petaluma has always been a place I love, and having the opportunity to move here was so exciting. I feel like the park is a beautiful representation of Petaluma. Early morning hikes are a delightful experience of cool coastal fog and dewy grass, and encountering friendly cows and community members. 
What's one fact, statistic, or interesting tidbit about land conservation that you enjoy sharing with others?
Traffic, light, noise pollution, and other edge effects of infrastructure can severely affect how animals behave and move through the environment. Without thoughtful land-use planning, even areas with structural connectivity may not be used by wildlife if edge effects hinder functional connectivity. 
What's your proudest moment working in land conservation and why?
One of my proudest moments in land conservation work has been supporting the Vegetation Management Grant Program. The program was fast to launch, and supported such a wide breadth of projects. As an administrative support person, it can sometimes be challenging to feel involved in the bread and butter of conservation work, but this project was a really easy way to see the direct impact of my work. It was a great reminder that sometimes the paperwork person is important, too! (Editor's note: you're important all the time!)
What compelled you to pick a career in land conservation?
I remember a question in my interview asking why I was interested in a job at Ag + Open Space. I had no land conservation experience prior to applying to this job, and I said as much, but I had a deep love and passion for Sonoma County, the agricultural operations in the area, and I recognized how incredibly beautiful and important the landscape is. In my former career, I worked at a nonprofit that supports adults with disabilities. When I moved to Petaluma, I saw an opportunity to continue my work supporting community members that lack equal access to the world around us through the work of Ag + Open Space. I also had a passion to help during the devastating wildfires, and I was excited our work could support our community through that. 
What's your favorite ice cream flavor and why?
My favorite ice cream is the "Almond Joy" from Angela's Creamery in Petaluma. It's fresh, creamy, packed with fillings, and local! A 10/10!