Conservation of vital greenbelt property ensures protection of water, wildlife, and local character
SANTA ROSA, CA (June 23, 2022) – Through a vital partnership with the Bucklin, Tilt, and English families, Sonoma County Ag + Open Space is proud to announce the upcoming conservation of El Recreo – a beautiful, 289-acre property near Kenwood in the Mayacamas Mountains, nestled next to Hood Mountain Regional Park. Owned and cared for by the same family since the 1950's, several family members have been working with Ag + Open Space to ensure the property's natural resources are conserved and stewarded for generations to come. Ag + Open Space is working with the family to purchase a conservation easement for $898,000, thus removing future options to develop the land, and ensuring its wild and natural habitats will continue to flourish. We anticipate the project closing in late June or early July.
Since Adelaide Perrin purchased the property over six decades ago, five generations of her family have enjoyed communing on the land and have cultivated a profound respect for nature through their visits. Many family members have worked or volunteered in the environmental sector, and the late Anne Teller, long-term local environmentalist and founding member of Sonoma Land Trust, is one of Adelaide's children who was inspired by her experiences at El Recreo.
"Every generation before us would be proud to say it's protected forever," said family representative Arden Bucklin-Sporer. "By bringing this land into our family, my grandmother was able to instill a profound love for the place in all of us. Our family has long dreamed of conserving this land, and we are so pleased to work with Ag + Open Space to make sure it can be celebrated and cherished forever."
A critical piece of Sonoma Valley's scenic corridor along Highway 12, and part of the historic homelands of the Southern Pomo, El Recreo rises 1,800 feet above the valley floor. Both Mount Hood and Badger Creeks run along the edges of the property and drain into Sonoma and Santa Rosa Creeks, respectively. Home to steelhead trout, Sonoma Creek also flows all the way to San Pablo Bay. The property's steep, hard-scrabble hillsides are home to interesting serpentine flora like Sonoma ceanothus, while the entire property serves as a wildlife corridor for bobcats, mountain lions, coyotes, and gray foxes. Sprawling fir and hardwood forest provide habitat for songbirds, raptors, and deer.
Much of El Recreo burned in the 2017 and 2020 fires, and the family manages vegetation across the property with past and future wildfire impacts in mind. With its location close to communities, highways, and parks, this property functions as a greenbelt in an area critical for wildfire resilience.
"Sonoma Valley is such a vibrant, special place to live, and the protection of El Recreo ensures future generations will continue to benefit from these natural spaces," said Susan Gorin, Ag + Open Space Director and District 1 Supervisor.
As Ag + Open Space's work is guided by our Vital Lands Initiative, El Recreo is a prime example of how conserving lands benefits us all in many ways. From creating buffers for future wildfires, to protecting local watersheds, to creating pathways for wildlife to travel for shelter and food, conserved lands help local ecosystems stay healthy and balanced.
"Land conservation isn't just about protecting land – it's about the long-term stewardship and collaboration between people and the land," said Louisa Morris, a former Ag + Open Space Acquisition Specialist who worked with the family to conserve the property. "Working with the Bucklin, Tilt, and English families to conserve El Recreo not only ensures the family can enjoy their land, but also that we all will continue to have clean water, fresh air, and healthy ecosystems to support and sustain us."
About Sonoma County Ag + Open Space
Sonoma County Ag + Open Space permanently protects the diverse agricultural, natural resource and scenic open space lands of Sonoma County for future generations. The agency is responsible for the conservation and perpetual stewardship of over 123,000 acres of land throughout our region. These agricultural and open space lands are protected through a quarter-cent sales tax approved by voters in 1990 and reauthorized in 2006. For more information, please visit www.sonomaopenspace.org.
###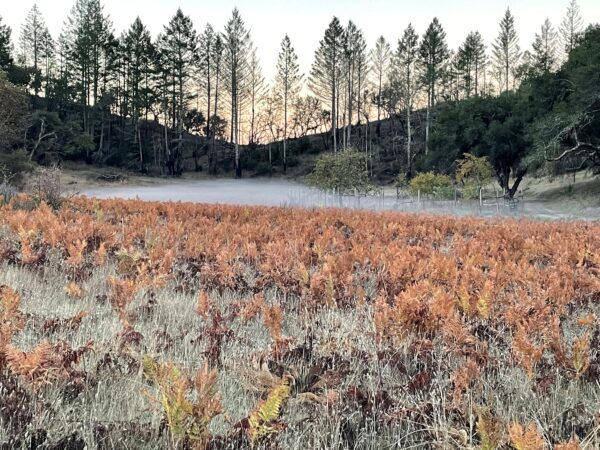 Photo credit: Arden Bucklin-Sporer