This month's Staff Spotlight is on Amy Ricard, who was recently promoted to lead our newly formed Community Resources team! Amy was hired as a Community Relations Specialist in 2014 to oversee community engagement activities, and to develop and execute strategic online and offline communications and marketing plans to support key programs and goals. In her new role as the manager of the Community Resources program, Amy will be responsible for providing resources to the public, partners, and landowners in the form of information, technical assistance, and funding through robust community relations, grant opportunities, and other supportive programs.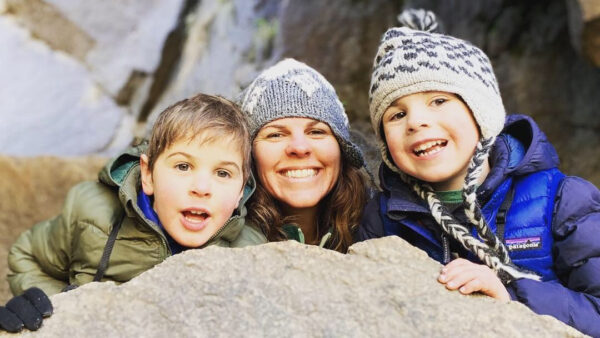 What's your favorite Sonoma County place to get outside and why?
It feels impossible to choose. I love going to the coast, particularly Doran Beach, with my family since the beach is so big and accessible and the waves are relatively calm. But I also love hiking among the redwoods, or driving through some of our most scenic landscapes like Two Rock/Valley Ford or Freestone/Occidental or the Dry Creek Valley. That said, my favorite place to get outside is Trione-Annadel State Park. I live in Santa Rosa, so the park is close to my house and as a hiker (and occasional runner), I love exploring and enjoying its many trails, habitats, and views. I also love seeing the cross-section of the community enjoying the park too. 
What's one fact, statistic, or interesting tidbit about land conservation that you enjoy sharing with others?
I like sharing that land conservation plays a critical role in helping us adapt to and mitigate the effects of climate change. In fact, we won't achieve climate resilience without conserving as much land as possible, as quickly as possible. Protecting lands that are diverse in elevation, habitats, plant communities, and microclimates ensures wildlife have ample room for migration and adaptation in the face of rising sea levels, warming temperatures, and environmental changes. Forests and grasslands can sequester carbon from the atmosphere while also storing groundwater; and conserved farms and ranches allow us to grow the food we need. 
What's your proudest moment working in land conservation and why?
My proudest moment would probably be the planning and execution of a series of public meetings as part of our Vital Lands Initiative development process. We started the process with a series of meetings throughout the county that were well-attended and included small group discussions facilitated by our staff members. It was really inspiring to see the community engage so thoughtfully in the planning process and it was pretty incredible to see our staff come together to make these meetings successful. 
What compelled you to pick a career in land conservation?
I've always loved the outdoors. I grew up camping, hiking, boating, skiing, etc. with my family, so I cultivated an appreciation for nature and the desire to preserve it at an early age. But I credit my study abroad program and subsequent thesis research project in Costa Rica for steering me toward a career in conservation. I understood very clearly that the environment is the tie that binds, and that our individual actions can have a global effect. I knew I wanted to do what I could to protect and enhance our environment. 
What's your favorite ice cream flavor and why?
I've always said I've never met a slice of pizza I didn't like, and I'm pretty sure I've never met a scoop of ice cream I didn't like either. That said, I'm a mint chocolate chip lover. But I do love the occasional pint of Ben & Jerry's Chunky Monkey, and I still dream about that cone of Grand Canyon Crunch I enjoyed after hiking out of the canyon a few years ago.