We're back with another Staff Spotlight! This month we get to hear from Allison Schichtel, Senior Conservation Planner, who has a BS in Botany and Environmental Biology from Humboldt State University and a Master's of Science degree in Geographic Information Science from San Diego State University. She has worked for Ag + Open Space for 6 years and has supported multiple conservation prioritization, planning, and mapping initiatives, including the Vital Lands Initiative, Sonoma Veg Map, and Healthy Lands & Healthy Economies.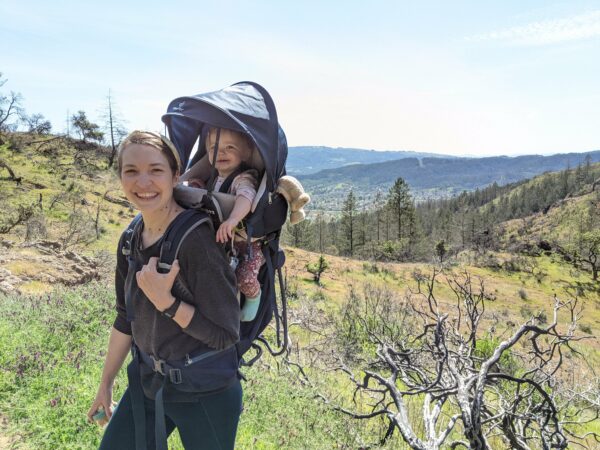 What's your favorite Sonoma County place to get outside and why?
The go-to spot for my family is the Umbrella Tree at North Sonoma Mountain Regional Park & Open Space Preserve. We go there to celebrate anniversaries and birthdays, and everything in between. The view is incredible and I love seeing the landscape change over the seasons. I also love hiking around Sonoma Coast State Park (Willow Creek) for views of the Russian River and coast. It's so hard to pick one spot!
What's one fact, statistic, or interesting tidbit about land conservation that you enjoy sharing with others?
Land conservation benefits not only the natural environment, but people and communities, too. From dairy lands that produce (in my opinion) the best cheese in the world, floodplains and wetlands that can slow and retain floodwaters, mature conifer forests that draw and store millions of tons of carbon, and urban and regional parks that serve as places of respite and recreation – protected lands provide rich and diverse benefits to us all.
What's your proudest moment working in land conservation and why?
When family and friends visit, we often go on drives that inevitably take us through lands that Ag + Open Space and our partners have protected. I cannot help but declare "Protected forever!" each time we approach a property that is protected with a conservation easement. It's a small expression of gratitude for the team at Ag + Open Space who worked on the project, for the landowner stewarding their property, and the community who supports this important work. And a moment of joy knowing that this land will remain open and continue to provide critical ecological and community services forever. Each project and property are unique, and I'm proud to play a small role in their protection.
What compelled you to pick a career in land conservation?
In the fourth grade my teacher took the class on a wildflower hike along the American River Canyon, teaching us about lupine, poppies, and the tiny urn-shaped flowers of manzanita. I grew up spending a lot of time outside – hiking, camping, and exploring – with family, but in that moment the micro details of life really came into focus for me. I grew to find beauty in both grand vistas and the tiniest of leaf serrations, and knew that I wanted to have a role in protecting that and sharing with others. I also witnessed my father, a Natural Resources Planner, work tirelessly to protect open spaces and establish parklands in Placer County, and I know that his passion and desire to "be of use" has had a great impact on me.
What's your favorite ice cream flavor and why?
Lemon poppyseed from Arcata Scoop. When they first opened I was an undergrad at Humboldt State, and I went every day for a week. Still a special spot to visit, and extra special when they have my favorite flavor!