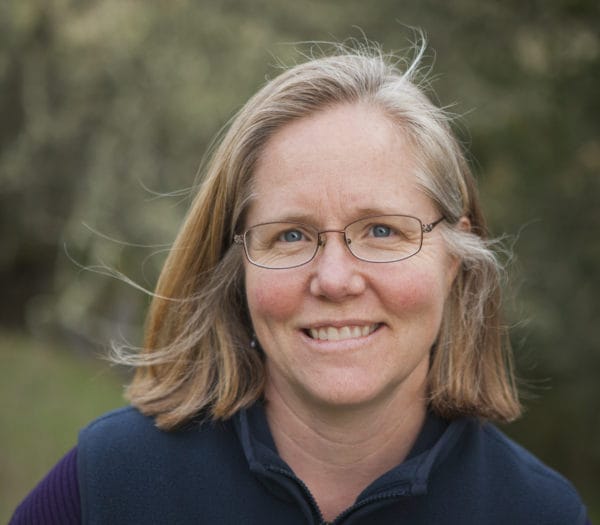 This month, we're checking in with Sheri Emerson, our Stewardship Manager, who oversees the stewardship of over 122,000 acres of land protected by Ag + Open Space. Sheri earned her undergraduate degree in Biology from Sonoma State University, and her Master's degree in Botany from the University of Maine. She is certified as a Professional Wetland Scientist by the International Society of Wetland Scientists, with professional experience in the ecology and restoration of freshwater, estuarine, and marine wetland ecosystems. Read on below to hear more about Sheri's work, and even her favorite frozen treat!
What's your favorite Sonoma County place to get outside and why?
I love to get out to the Sonoma Coast to check out the tidepools, walk along the beaches, and hike along the coastal bluffs. There's so much life and energy at that place where the land meets the sea – I love that transition.
What's one fact, statistic, or interesting tidbit about land conservation that you enjoy sharing with others?
Protecting and restoring wetlands is key to addressing climate change. Wetlands comprise only 7% of the earth's land surface, but store 33% of the world's terrestrial carbon. Coastal mangroves store four times more carbon than neighboring rainforests! Healthy wetlands increase our resilience to drought, floods, and wildfire, and support more biodiversity than forests. Unfortunately more than a third of global wetlands have disappeared since the 1970s… that's within my own lifetime! It is shocking. So we have a ton more work to do to conserve and restore wetlands.
What's your proudest moment working in land conservation and why?
One day I was picking up a sandwich on my lunch break to take back to the office – I was in the midst of an intense project, so I was a bit distracted. The woman at the register asked where I worked. When I said the Sonoma County Agricultural Preservation and Open Space District, she brightened and said, "Oh!  You are the ones that saved Taylor Mountain!" And suddenly everything came into focus and I thought, wow, I guess she's right!
The work of Ag + Open Space provides real benefits to everyone in our community. Maybe you like to hike or bike or birdwatch at Taylor, or you just think it's a beautiful scenic backdrop to Santa Rosa. Maybe you like to buy locally produced beef that may have come from the cows grazing there. Maybe you appreciate clean air and water, or protection from floods or wildfire. Our work does all of these things, and I'm just proud to be able to be a part of it.
What compelled you to pick a career in land conservation?
As a kid growing up in the Bay Area, I really enjoyed time spent outdoors and learning about the natural history of local habitats, especially oak woodlands and the coast. School trips to regional and state parks, Yosemite National Park, and family visits to Santa Cruz and Monterey Bay all added to the sense that we are so incredibly lucky to live here amongst such natural beauty. I wanted to learn as much as I could about these special places, and do whatever I could to protect them.   
What's your favorite ice cream flavor and why?
Cherry Garcia – it's been part of both the celebrations and the heartaches over the years. I also like mint chip, and coffee, but my favorite is still Cherry Garcia.