This month, we're checking in with Kim Batchelder, the County's Vegetation Management Coordinator. Kim has been with Ag + Open Space for over a decade, and recently moved into this role focused on the planning, development and implementation of funding and incentive opportunities for ecosystem health and wildfire mitigation through vegetation management efforts on public and private lands in Sonoma County. Read on to learn more about Kim (including his favorite dessert!).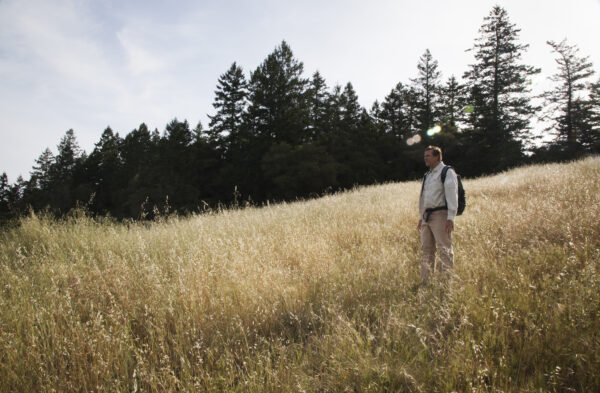 What's your favorite Sonoma County place to get outside and why?
There are so many amazing places to visit, this is a really difficult question… But, if I absolutely had to choose, I'd have to say North Sonoma Mountain Regional Park and Open Space Preserve. I love the way the trail slowly climbs up the shoulders of Sonoma Mountain winding through the oak woodlands, bay forests, native grasslands, and even some majestic redwood groves. The views are always incredible, and a loop into Jack London Historic State Park allows you a 360-degree view of the Bay Area and much of Sonoma County!
What's one fact, statistic, or interesting tidbit about land conservation that you enjoy sharing with others?
Fire, when used carefully, can rejuvenate a natural landscape. Our human infrastructure has been heavily hit by wildfire over the past couple of years, but one tool that land managers are trying to use is prescribed fire. Prescribed fire can help reduce fuels and improve the health of our grasslands, oak woodlands, and forests while reducing the threat of wildfire. 
What's your proudest moment working in land conservation and why?
When the Kashia Band of Pomo Indians of Stewarts Point Rancheria were able to work with the Richardson Family, Trust for Public Land, Coastal Conservancy, Ag + Open Space, and many others to create the Kashia Coastal Reserve and restore their ancestral passage to coastal lands. This project also included protecting coastal redwood forest along the rugged Pacific coast. It was truly a memorable moment. 
What compelled you to pick a career in land conservation?
While growing up in San Mateo, I lived near a creek, an oak woodland, and grasslands that I used to play in when I was a kid. In a span of five years, I watched a series of fifteen large-scale office buildings replace our natural playground. Later in my career I learned to tune into how to find a balance between the use of our natural resources, and areas where development was acceptable. I really enjoy seeing where areas can be protected, where streams and forests continue to offer us clean water, and where these lands can act as a buffer from urban sprawl.  
What's your favorite ice cream flavor and why?
Ben & Jerry's Cherry Garcia is the best! My wife and I lived in Burlington, Vermont for two years and could cross-country ski to our nearest B&J stand – quite the reward for a winter ski!