Though many aspects of our lives feel as if they are on hold, our work to prepare our protected lands for the potential wildfire season ahead has continued over the last few months. From monitoring vegetation to conducting prescribed burns, our staff and local partners have been working diligently to help keep our communities safe and resilient. Read on to see what we've been doing on at Calabazas Creek Open Space Preserve, Van Hoosear Wildflower Preserve, and more!
Calabazas Creek Open Space Preserve
Ag + Open Space staff recently visited the Calabazas Creek Open Space Preserve to monitor yellow star thistle 3 years after the Nuns Fire, to track the effectiveness of last fall's targeted sheep grazing in controlling this invasive species. Grazing can help manage invasive species and encourage native grasses while lessening fire fuel loads. Eventually, in coordination with Cal Fire and the Sonoma Valley Wildlands Collaborative, we hope to conduct a series of prescribed burns at Calabazas to see the direct results of this treatment in controlling a very aggressive, invasive plant, and in helping to make our lands more resilient to future wildfire.
You can read more about the fuel load reduction work, grazing, and yellow-star thistle monitoring we've been leading at Calabazas here.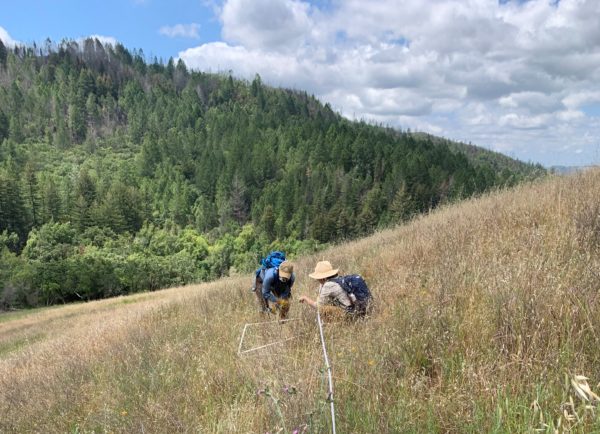 Saddle Mountain Open Space Preserve
Ag + Open Space has been working with Cal Fire since 2018 to plan and implement a series of fuel-reduction projects at Saddle Mountain Open Space Preserve. These include a series of grassland prescribed burns and three shaded fuel breaks, in addition to longer-term plans for targeted forest understory thinning. These projects are intended to improve the preserve's grassland and forest health by reducing invasive species and overcrowded Douglas-fir saplings; create enhanced habitat for rare plants, oak woodlands, coast redwoods, and fire-resilient hardwood species; and provide safer, more functional access routes for firefighting personnel. This spring, Ag + Open Space staff completed initial grassland monitoring in order to track these areas' response to prescribed burning, which we hope to begin in spring 2021. We are also working with a Registered Professional Forester to develop ecologically sensitive thinning prescriptions for the shaded fuel breaks, which we hope to be able to begin work on later this year.
You can learn more about Saddle Mountain and our priority habitat enhancement and fuel management projects here.
Van Hoosear Wildflower Preserve
Over Memorial Day weekend, Ag + Open Space worked with a coalition of local partners for a prescribed burn on 28 acres of grassland at the Van Hoosear Wildflower Preserve. Van Hoosear is privately owned, but managed by the Sonoma Ecology Center and protected by an Ag + Open Space conservation easement. This prescribed burn will help to control invasive medusahead grass, which competes with native wildflower species that should now be able to thrive. Ag + Open Space Stewardship staff were there the day of the burn to share their expertise and participate in implementation. For more about this prescribed burn and all of the partners that made it possible, check out this blog post from Sonoma Ecology Center.
Before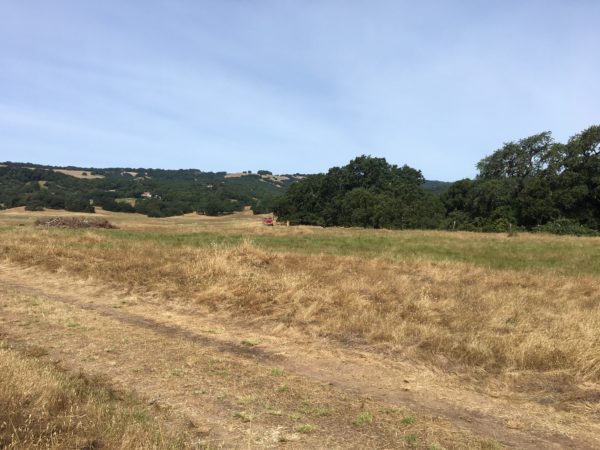 During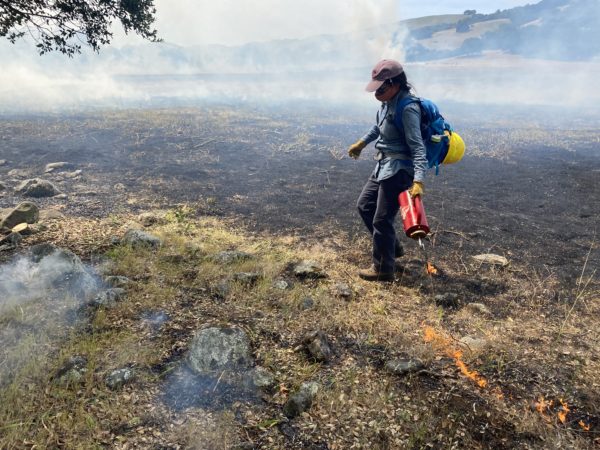 After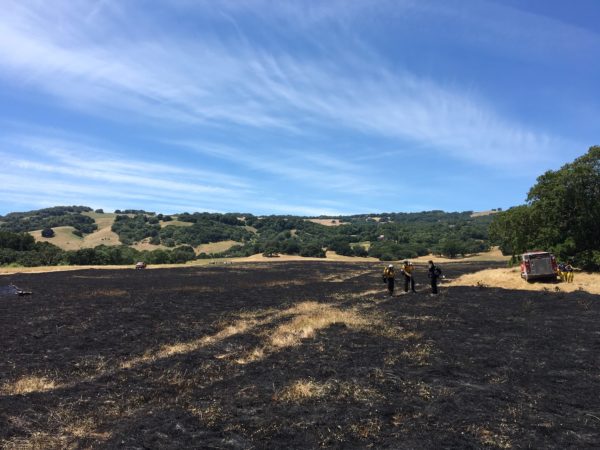 Healdsburg Ridge Open Space Preserve
On May 23, the City of Healdsburg conducted a prescribed burn on roughly three acres of grassland at Healdsburg Ridge Open Space Preserve. This burn helped to remove Harding grass and teasel, and will promote the growth of native plant species. In 2003, Ag + Open Space acquired two properties for $7.6M along a prominent ridgeline on the northeastern side of Healdsburg to create the 153-acre Healdsburg Ridge Open Space Preserve. Greenbelt lands, like Healdsburg Ridge, help to create buffers around our cities and towns. Through careful land management, including targeted prescribed burns, these properties can help protect our cities and towns during wildfires. This 153-acre preserve with 3.5 miles of public trails was transferred to the City of Healdsburg in 2019, with Ag + Open Space retaining a conservation easement.
Cooley Ranch
On May 24, the landowners of Cooley Ranch, along with several local partners, conducted a 112-acre prescribed burn to help eliminate buildup of dangerous woody debris and brush and reduce the presence of invasive medusahead grass and yellow star thistle. Removal of these fire fuel loads will help better prepare Sonoma County for the upcoming fire season. Cooley Ranch is a 20,000-acre private ranch that comprises the headwaters of Lake Sonoma, and the entire ranch is protected with a conservation easement acquired by Ag + Open Space in 2001.
Sonoma Developmental Center III
Sonoma County Regional Parks is working with Cal Fire to plan and implement a late-spring grassland burn at the Sonoma Valley Regional Park, on the portion of the park that's covered by Ag + Open Space's "SDCIII" conservation easement. If conditions permit, this prescribed burn will complete the first phase of the project that began in June 2019 and expand the treatment of invasive medusahead in the park's grasslands while creating a functional fuel break along Highway 12. The SDCIII conservation easement was acquired in 2007 when Ag + Open Space purchased and transferred this approximately 41-acre parcel to Regional Parks as an addition to the Sonoma Valley Regional Park.