In October of 2019, the Kincade Fire swept through large swaths of Sonoma County, impacting several Ag + Open Space-conserved properties. In the northeast part of the county, the 3,125-acre Modini Preserve burned in almost its entirety (the only spots that didn't burn were where fire retardant was dropped!). We recently caught up with the preserve's manager and resident biologist, Michelle Cooper from Audubon Canyon Ranch (ACR), which owns the property, to hear about lessons from the land three years post-fire.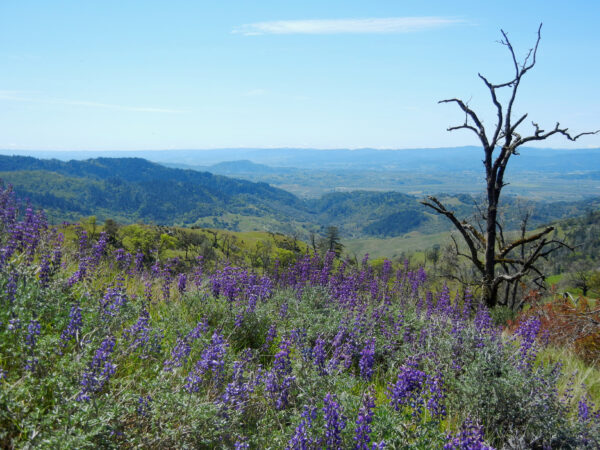 All about the Modini Preserve
As part of a complex of contiguous protected lands totaling over 12,600 acres, Modini Preserve is made up of two properties – Modini Ranch and McCord Ranch North. Modini Ranch was protected with one of our conservation easements before the former landowners, Jim and Shirley Modini, donated the land to Audubon Canyon Ranch upon their passing. Jim and Shirley lived on the ranch for the entirety of their marriage – 66 years in total! Before Jim and Shirley, the property belonged to Jim's great aunt and uncle, Theresa and Timothy Ingalls, who began living there in 1852.
Michelle notes that the preserve is important for many reasons – from a stunning mosaic of wildlife habitats to diverse soil types and myriad plant communities, this land is a critical piece of preserving the wild and natural character of our county. In fact, there are over 400 plant species, eight of which are special status species (rare, threatened, or endangered species), and 144 recorded bird species. There are two perennial streams – McDonald and Ingalls – that are home to steelhead trout, California giant salamanders, western pond turtles, several newts, toads, and there's even been a rogue river otter sighting! It's also an important wildlife corridor for bears, mountain lions, and wild boars, though the latter (which is non-native) is managed through an active hunting program to lessen negative impacts to the ecosystem. 
Wildfire recovery
Since the Kincade Fire, Michelle and her colleagues have found that, "every day is a learning moment," and there is always more work to do to support the land's recovery and growth. 
Post-fire, the first concern was erosion as the property was heavily accessed by firefighters and other first responders to place fuel breaks to try to slow down and contain the fire's progress. In total, 15 acres of land was bulldozed. In particular, Little Sulphur Creek, part of the Big Sulphur Creek Watershed that is home to The Geysers, needed to be stabilized. While work needed to be done to support waterways on the property post-fire, Michelle also noted how dynamic riparian systems are, and how well adapted they are to disturbances like fire. While the shifts in soil and flow levels have led to major changes along the waterways, there's also new and more plentiful habitats for riparian species like the foothill yellow-legged frog.
Since this is an actively managed preserve, when the fire broke out there was equipment on site that belonged to contractors working on the land. While some of their equipment burned and melted, some was spared and it ended up being a helpful happenstance as the contractors were already working on the property and thus could quickly get to work helping to stabilize and clean up.
As we've seen across burned areas of the county, fire can create a perfect climate for invasive species populations to explode. While the immediate aftermath of the fire saw many invasives burned, they sprang back in the following years, and there's an ongoing focus on removing yellow star-thistle and St. John's wort. 
Now, there are signs of growth and regeneration with the serpentine grasses flourishing and chaparral areas flowering again. Brewer's milkvetch, a northern California native, has expanded its territory within the preserve. The St. Helena fawn lily, another native species, has also done well after the fire. 
Building Wildfire Resiliency
In the preserve's woodlands, Michelle and her team are also focused on regenerating oak tree populations that were hurt during the fires and several years of drought. At the same time, they're always looking to manage ladder fuels so that should another fire burn on the property, there's less chance of it reaching the canopy where fires can burn hotter and quicker. 
After the 2019 Kincade Fire, small patches of dead Douglas fir trees remained standing immediately under or very near the living canopies of mature oak trees that survived the fire. Significant ladder fuels created by standing dead firs pose a major risk in the future, threatening the survival of older oak species during the next fire. Current post-fire fuel reduction projects are focused on removing these ladder fuels so the many species of oak trees found on the Preserve are better protected in the event of future wildfires.
Fire recovery is truly a community-wide endeavor, and Michelle credits ACR's donors, Russian Riverkeeper, Sonoma Ecology Center, the Sonoma Resource Conservation District, and the Natural Resources Conservation Service for supporting recovery work at Modini Preserve with knowledge and funding.
Moving onward, Michelle says she's "excited to keep stewarding as much as possible." We're grateful for landowners like Audubon Canyon Ranch, and look forward to continuing to partner with them on caring for this special place.