For centuries, Indigenous peoples have harvested the Dogbane plant for use in making cordage, nets, bags, and belts. With many years of community care, the Dogbane plant has thrived on the special three-acre, culturally-significant Dogbane Preserve in what is now northwest Santa Rosa. 
Each year, Ag + Open Space partners with Tribal members and other local experts to host a cordage-making and stewardship day on the Preserve. During this year's event, 25 attendees took part in a cordage-making demonstration, and learned about the cultural and ecological importance of this preserve. Then, folks were able to help care for the land by removing Himalayan blackberry bushes and Harding grass, both of which can encroach upon and push out Dogbane plants.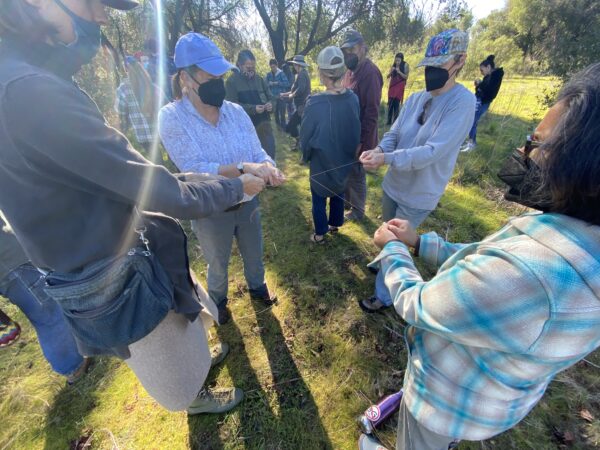 Protecting this land and its population of Dogbane is especially important as this preserve is home to a small remnant of what was once a widespread population of Dogbane across the area. Stewardship projects, like this workday, make a big impact in helping this land continue to provide space for Dogbane to thrive.
This preserve also acts as a buffer, or greenbelt, between Santa Rosa and Windsor. Greenbelts preserve the unique character of Sonoma County's cities and communities, by preventing sprawl and protecting cultural and natural resources. 
We've also worked with community organizations like Social Advocates for Youth and the Sonoma County Youth Ecology Corps in past years to organize stewardship days with local youth. These community organizations work together to get youth working outside and learning about Sonoma County's cultural heritage and the environment during the summer months each year. Learn more about the work local youth have done on the preserve here >>